Please watch this page as we add new items that are either relevant to Collings or the wider legal profession.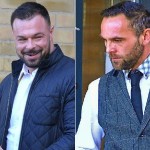 27/11/19
Shrewsbury Crown Court heard that a fireman persuaded his friend to take a DNA test so that he could avoid paying child maintenance.
The court heard that Simon Jordan, 33, from Bridgnorth, Shropshire, asked Jason Lee Coles also from Bridgnorth, Shropshire, to provide a sample of his DNA, when a woman named Jordan as the father of her child.
read more >